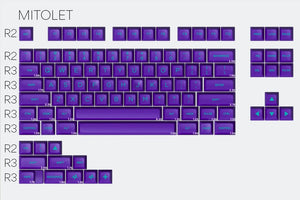 SA Mitolet from round 3 of SA Pulse. See Drop link below for more info about SA Pulse. 

These keycaps are mostly flat, with the top row being R2. This set of caps are mostly unused, with a few novelties being mounted on switches (but used for less than 3 hours). 

https://drop.com/buy/pulse-sa-keycap-set

Also check out the SA Pulse Individual Novelty Keys

ONLY ONE IN STOCK!